Dentistry for Teens – Randolph, MA
We Help Teenagers Enjoy Strong & Healthy Smiles
Life can really be a struggle for your teenager. There's pressure to make good grades, but also to keep up with friendships and relationships, both of which can be just filled with drama. Even if it feels like your child is growing up faster than ever, they always have a place here at Simply Pediatric Dentistry & Orthodontics! The dentists regularly work with older children, even those as old as 18 years! You can expect them to provide truly personalized and friendly care as they enter their next stage of life with confidence. Contact our Randolph, MA pediatric dental office today to get schedule your very first appointment for dentistry for teens in Randolph, MA!
Why Choose Simply Pediatric Dentistry & Orthodontics for Dentistry for Teens?
Experienced Team of Pediatric Professionals
Fun & Caring Pediatric Dental Office Environment
We Accept MassHealth and All Dental Insurances
Dental Checkups & Teeth Cleanings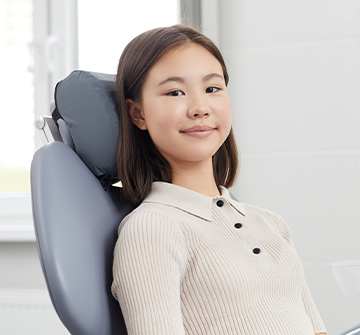 When scheduling appointments for your teen, we encourage you to set up a checkup and cleaning for them once every six months on average or twice in a calendar year. During these essential visits, one of our dentists will perform a comprehensive assessment of their current oral health. This includes looking closely at the surfaces of teeth, their jaw, their overall bite, their gum tissue, and any other existing restorations like fillings or crowns. We want to make sure we catch dental problems early, making your treatments fast and easy to complete. With dedicated at-home oral hygiene will work to remove harmful plaque and cavity-causing bacteria before it even has a chance to develop!
Dental Sealants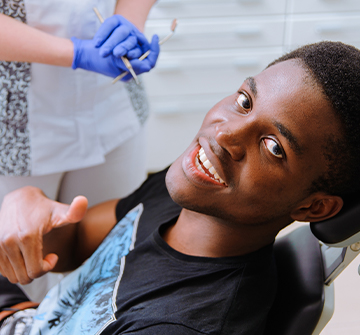 Your teenager might actually miss the hard-to-reach areas of their teeth during their oral care routine. These teeth, known as the molars and premolars, are perfect spots for food particles and decay to develop, increasing their risk of cavities over time. With dental sealants, we can give them an extra layer of protection. These safe, plastic-based substances are incredibly tough once placed. They act as barrier from decay-causing bacteria, preventing it from digging deep into the deep grooves and crevices of back teeth. Even better, your son or daughter won't even notice they are after treatment, even though they last for several years. It's an incredibly fast solution that couples well with proper maintenance.
Learn More About Dental Sealants
Fluoride Treatment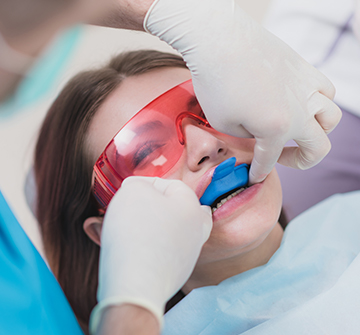 It may be a timesaver for your teeth to grab a bottle of water and head out the door, especially if they have a busy schedule. However, it also means they aren't getting the most out of the fluoride that's more than likely available in their neighborhood's public drinking water! Fluoride is a natural mineral that's typically added to water supplies and oral care products. By making sure it's present in your child's diet, you're helping develop stronger enamel and reduce their overall risk for developing cavities.
Tooth-Colored Fillings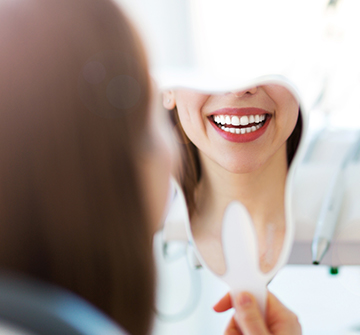 We want nothing more than for all of our patients to go through their teenage years with no cavities at all. This rarely ends up being the case, which means we need to address damage once it appears. We can take care of these cavities right away with the help of tooth-colored fillings! This is in stark contrast to traditional amalgam fillings, as tooth-colored options are made from composite resin. Because of its lifelike appearance, your child won't even notice it once it's placed! Furthermore, tooth-colored fillings are less sensitive to temperature and provide better oral comfort throughout their day.
Safe Digital Dental X-Rays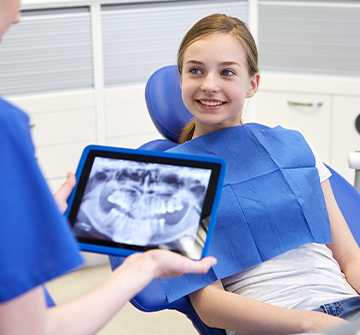 Since there are many things that can happen underneath your smile, it's important that we have the best to examine them closely! During the diagnostic process, we keep your teenager as safe as possible here at Simply Pediatric Dentistry & Orthodontics by utilizing all-digital radiography. Compared to traditional film, we can reduce the exposure of radiation by up to 80 percent and even eliminate the need for darkroom development procedures! That means there's no need for hazardous chemicals whatsoever.
Root Canals / Pulp Therapy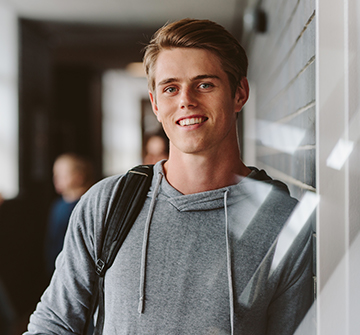 If your teenager has suffered from a traumatic dental injury, they're experiencing severe toothaches, or they just have painful sensitivity in a single tooth, it's possible that an advanced infection has developed in the inner chamber of their tooth root. It also means you need to get to our pediatric dental office as soon as possible so it can be cared for by our trusted pediatric team. To save the tooth and prevent an extraction, we will likely recommend root canal therapy to remove diseased tissue and harmful bacteria.
Of course, if your teen still has developing teeth, we may recommend pulp therapy instead. We'll make sure to only eliminate damaged portions of your pulp and leave the healthy areas safe and untouched.
Frenuloplasties & Frenectomies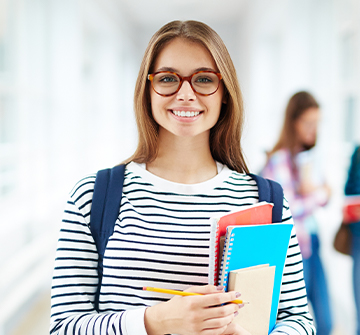 Your teen is like to have one or more bands of oral tissue that connect to their cheeks, floor of the mouth and lips. The tissue is called the "frenum" and many young patients will have them from the day they are born. Our team at Simply Pediatric Dentistry & Orthodontics is happy to recommend a frenuloplasty or frenectomy in the event that their presence leads to serious oral discomfort or aesthetic irritation. They effectively loosen, remove, or reposition the frenum, depending on the thickness of the tissue and where it sits within the mouth.
Emergency Kid's Dentistry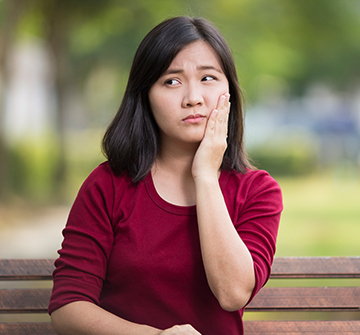 If your child is regularly on the go, they can get into a serious dental injury if their activities involve sports, clubs or other extracurricular activities. These dental emergencies can occur without any warning, making you likely to panic. We do everything we can at Simply Pediatric Dentistry & Orthodontics to treat a dental emergency when it occurs. Our goal is to take away your child's pain and save their teeth however possible, and our dentists are more than capable of to help when your teen needs it most!
Dental Crowns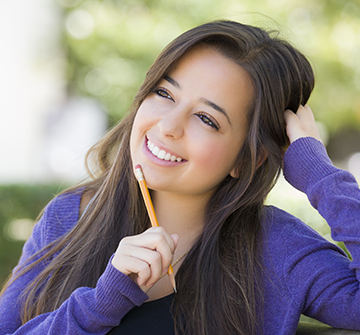 When teeth are suffering from decay, dangerously weakened, or left incomplete in any way, dental crowns can work to restore their strength functional abilities right away! Our Randolph pediatric dental office can create a beautifully designed restorations for teenage patients in need of tooth repair. In most cases, the process only takes about two appointments to complete.
To do this, we capture a detailed impression of your damaged tooth, then use it to create temporary crown so you can get used to feel of it before your next appointment. We'll swap it out once we get the permanent restoration back from our dental lab offsite as well as make any adjustments as needed to ensure comfort and fit.
Tooth Extractions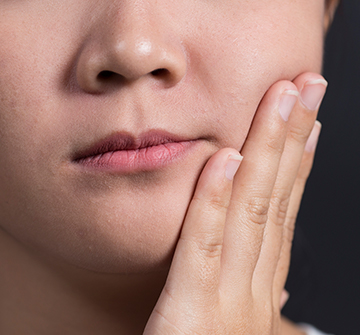 There are certain situations where a tooth extraction is necessary, even if a professional extraction is never our first choice for pediatric treatment. In order to ensure continuing oral health and your best wellbeing, we may perform an extraction if:
Advanced tooth decay cannot be treated with a filling or crown
A traumatic dental injury as happened
There isn't enough space to accommodate a future orthodontic treatment
Need help feeling comfortable during your next extraction? Sedation dentistry is available at our dental office and is ideal for making nervous or anxious patients feel incredibly relaxed.
Athletic Mouthguards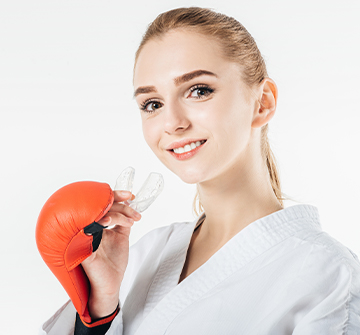 Your child needs as much protection as possible when they're playing sports that involve physical contact or incoming projectiles from other players. Thankfully, our pediatric dentists can create a durable, high-quality oral mouthguard, which is fully customized for your child's unique mouth shape. They are far superior to what you'll find in your local sporting goods store and provide flexibility, stability and comfort through the entire game.