Nitrous Oxide – Randolph, MA
Create the Comfortable Dental Experience Your Child Deserves
If your child is scared of needles, doesn't like loud sounds, or is fearful of the dental office in general, then they may develop dental-related anxiety. According to the US National Library of Medicine, about 42% of school-aged children struggle with this condition, making getting the essential preventive and restorative care they need difficult. The good news for both parents and their children is that nitrous oxide in Randolph allows patients to get the safe, effective, and comfortable experience they deserve. Interested in learning more? Then don't hesitate to get in touch with our team or read on!
Why Choose Simply Pediatric Dentistry & Orthodontics for Nitrous Oxide?
Highly Trained and Experienced Pediatric Dentists
Comfortable and Relaxing Atmosphere
Patients of All Ages are Welcome
Who Is a Good Candidate for Nitrous Oxide?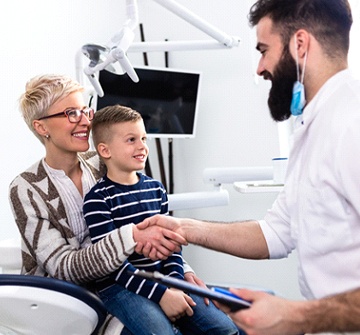 Ultimately, the decision on whether or not your child is a candidate for nitrous oxide will be determined by you and their pediatric dentist. Oftentimes, it's recommended for patients who:
Have a fear of needles
Are uneasy with the sights, sounds, and smells of the dental office
Have difficulty controlling their movement
Experience dental sensitivity
Have difficulty becoming numb
In cases like these, nitrous oxide can provide a feeling of calmness, allowing more dentistry to be done in a single visit. Depending on your child's dental needs and comfort level, it can be utilized whether they need a more extensive procedure, like root canal therapy, or a routine appointment, like a dental cleaning.
How Does Nitrous Oxide Work?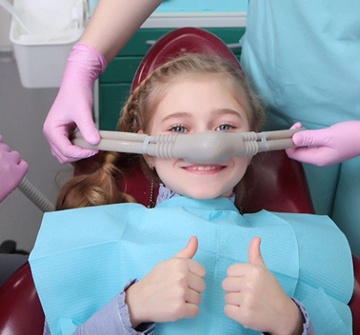 If your child needs nitrous oxide to comfortably get the dental care they need, then our dental team will carefully place a comfortable nasal mask over their nose. We will adjust the flow of oxygen and nitrous oxide, monitoring their vitals the entire time. After a few minutes of breathing in this odorless gas, they will begin to feel calmer. Some patients even report a sense of euphoria (hence the nickname "laughing gas")! Since this is a more mild sedative, they will remain awake and able to respond to verbal commands the entire time. Once their treatment is complete, we'll remove the nasal mask, and the effects will begin to dissipate as soon as they came on!
Aftercare for Nitrous Oxide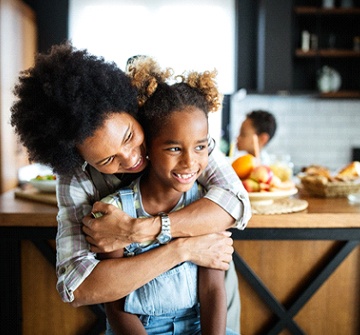 As mentioned above, the effects of nitrous oxide don't last for long after the nasal mask is removed. In fact, that's one of the many reasons parents love it! There are no prolonged feelings of drowsiness or need for you to turn your child's schedule upside down. If their dentist has any specific aftercare instructions following their procedure, they'll be given to you at this time.