Invisalign – Randolph, MA
The Clearest Way to Straighten Your Smile
Do your crooked teeth make you shy away whenever someone pulls out their phone or camera for a picture? If so, you've probably considered undergoing orthodontic treatment. However, the idea of wearing uncomfortable metal braces for years on end makes you cringe. Fortunately, there is an easier way to achieve a straight smile with Invisalign. This treatment allows both adults and teens to achieve perfectly aligned smiles without onlookers even noticing. Keep reading below to learn more about Invisalign in Randolph.
Why Choose Simply Pediatric Dentistry & Orthodontics for Invisalign?
Suitable for Teens and Adults Alike
Straightens Teeth More Quickly and Discreetly Than Braces
Accepts MassHealth and All Other Dental Insurance
How Invisalign Works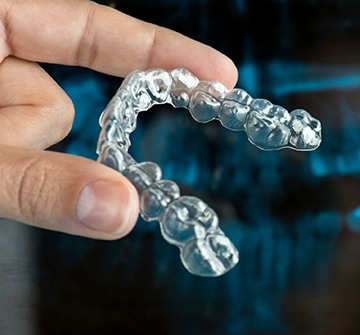 Instead of visible metal brackets and wires, Invisalign uses a series of clear plastic aligners to gradually shift your teeth into their ideal position. To create your aligners, one of our orthodontist takes photographs, x-rays, and impressions of your teeth. This information is then sent to an Invisalign lab, where your trays will be crafted from comfortable yet durable plastic.
As soon as you receive the aligners, you can begin your treatment. Simply wear each set of aligners for a week or two, depending on our recommendations, and then move on to the next set in the series. In order to complete your treatment in a timely manner, you'll be expected to wear the aligners for 20-22 hours a day. Essentially, you should only take them out to eat, drink, brush, floss, and participate in any special events like a job interview. After about 12-18 months on average, the treatment will be complete, and you'll be ready to showcase your new and improved smile to the world!
Is Invisalign Right for Me?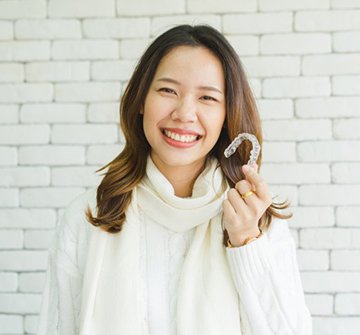 Many older teens and adults are good candidates for Invisalign. This treatment can be used to correct several common orthodontic issues, such as:
Overbite
Underbite
Crossbite
Gapped teeth
Crowded teeth
Not only are these problems widely considered unattractive, but they can also jeopardize your oral health. Gapped teeth, for example, can get food debris stuck in them, attracting bacteria that contribute to gum disease and tooth decay. Bite alignment issues can result in teeth grinding and TMJ disorder, which may crack or wear down your pearly whites. Not only does Invisalign correct the aesthetic problems in your smile, but it makes your teeth much healthier too!
Benefits of Invisalign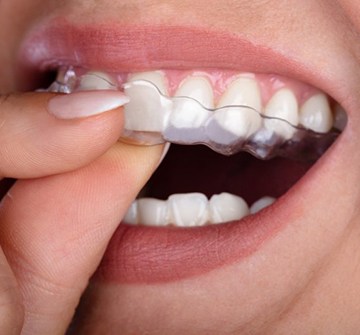 When compared to traditional metal braces, Invisalign treatment comes with a whole host of advantages, some of which include:
In many cases, Invisalign can deliver the same results as traditional braces in a fraction of the time. Invisalign treatment often lasts only a year, while braces can take two or even three years. You'll get to enjoy the benefits of having a straight smile much sooner!
The metal of traditional braces is notorious for irritating your cheeks, gums, lips, and tongue. In contrast, Invisalign's clear trays are made with your comfort in mind. They shouldn't cause any soft tissue irritation.
Even if you get tooth-colored braces, they're still quite noticeable when you talk, laugh, or smile. Invisalign, though, is completely translucent. Unless someone is standing just inches from your face, no one should be able to tell you're even wearing the aligners.
Are you ready to choose the clearest way to straighten your smile? Contact Simply Pediatric Dentistry & Orthodontics today to schedule a consultation!
Understanding the Cost of Invisalign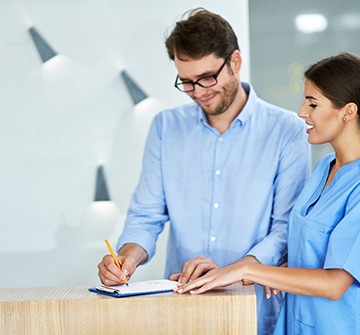 As you may have guessed, each Invisalign treatment is completely tailored to the patient's unique dental needs. While this ensures a safe and effective teeth-straightening process, it also means that there isn't a set price. If you're interested in getting a better idea of the cost of clear aligners, then we highly recommend scheduling a consultation with our Randolph orthodontist. Or, you can read on for more general information on the topic!
Factors That Affect the Cost of Invisalign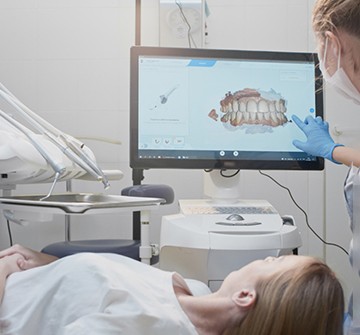 During your consultation, we will cover a lot of ground, which will include taking impressions of your teeth. This will give us insight into:
The complexity of your case.
How many aligners are needed.
If orthodontic accessories need to be added to your treatment plan.
If one or both arches of teeth need to be straightened.
After you officially begin your Invisalign treatment, another factor will come into play: your compliance with the guidelines, like the 20+ hour-a-day wear time. If you don't wear your aligners often enough or consistently misplace them, then there's a good chance that you'll fall off-track with your original treatment plan and another one will need to be made.
Invisalign vs. Smile Direct Club™: Which Costs More?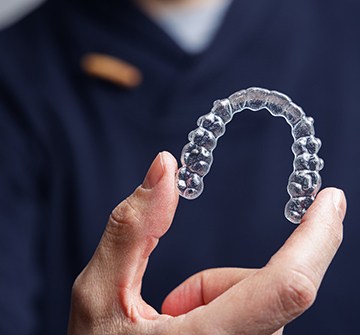 Mail-order aligner companies typically cost around $2,000, which is certainly cheaper than Invisalign. However, they also don't conduct thorough exams upfront, rely on DIY impressions, and have lawsuits from previous patients who have had nightmare experiences. For all of those reasons, the age-old saying "cheaper isn't always better" applies here. If you want a reliable orthodontic treatment that will give you the beautiful results you desire while maintaining your healthy smile, then it's worth investing in Invisalign.
Does Dental Insurance Cover Invisalign?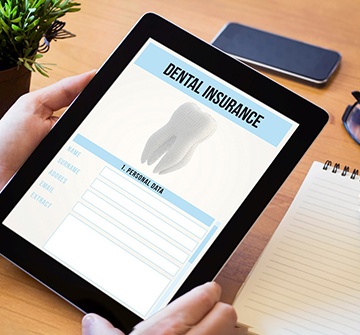 Not always. With that said, there are several dental insurance providers that offer a once-in-a-lifetime orthodontic benefit that can cover upwards of 50% of the total cost of your treatment. So, it's definitely worth double-checking the fine print on your plan! Since we also welcome insurance and have plenty of experience helping patients maximize their coverage, you can also bring any questions you have to our team.
Options for Making Invisalign Affordable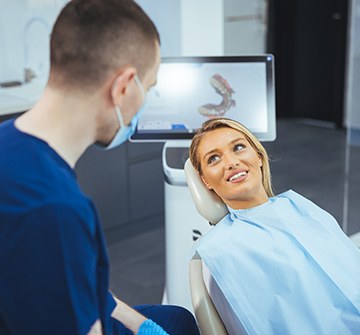 First, our team at Simply Pediatric Dentistry & Orthodontics has several special offers, which can help you reduce your out-of-pocket expenses significantly. In addition to that, we welcome flexible financing so you can choose a payment plan that suits your monthly budget. Simply put, we offer multiple solutions to help make the cost of Invisalign more affordable, so don't hesitate to ask about the details of each during your next appointment!
Invisalign FAQs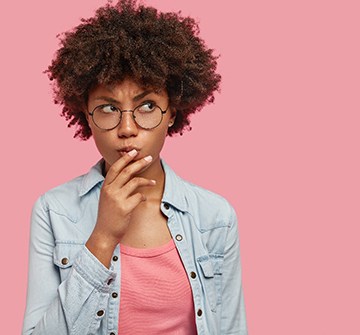 If you're looking for the clearest way to straighten your smile, look no further than Invisalign! This unique orthodontic treatment works very differently than traditional metal braces, so it's natural to have a few questions about it. For your convenience, we've gathered some of the most common questions we get about Invisalign below so you can learn more about it!
Does Wearing Invisalign Aligners Hurt?
Traditional braces are a reliable orthodontic treatment, but their metal wires and brackets are notorious for causing sores and irritation in the mouth. Thankfully, Invisalign offers a much more comfortable straightening experience! The smooth, custom-made aligners are made of a simple piece of biocompatible plastic. This way, they should comfortably glide past your cheeks, lips, and tongue.
However, it's normal to experience some discomfort in your teeth when you first begin to wear a new set of aligners. Any soreness you experience should be mild and naturally fade on its own within a day or two. To help manage your symptoms, you can take over-the-counter pain relievers as directed or apply ice packs for 10 minutes on, 10 minutes off.
What Foods Do I Need to Avoid During My Invisalign Treatment?
Unlike traditional metal braces, Invisalign doesn't require you to give up your favorite foods and drinks during your treatment. Simply take your aligners out before enjoying your snack, beverage or meal, then give your teeth a quick brush before putting your aligners back into place. Remember, eating or drinking anything besides water with your aligners in can discolor, weaken, warp or break them, so always take the time to remove them before enjoying!
How Are Invisalign Aligners Cared for?
Invisalign aligners make it easy to keep up your normal daily dental routine and keep your mouth healthy. Thankfully, caring for aligners is just as easy with a few simple habits:
Don't use your normal toothpaste to clean your aligners, as it may scratch them. Instead, wash your aligners off with water, brush them with a soft-bristled toothbrush and clean them with an approved cleaning solution.
Rinse off your aligners every time you take them out to prevent saliva, plaque and bacteria from drying out and hardening on them.
Protect your aligners from discoloration by brushing your teeth before putting your aligners back in after eating.
Are Invisalign Results Permanent?
The straighter smile you achieve with Invisalign has the potential to last a lifetime! That is, however, as long as you take the right steps to protect your investment. Like any orthodontic treatment, you'll need to wear a retainer for a little while afterwards. This will help hold your teeth in the proper positions as your jaw continues to heal and strengthen around them. If you don't wear your retainer often enough or for enough time, your teeth may slowly shift out of place over the years. Make sure you're following your orthodontist's directions to ensure you can enjoy the results of your Invisalign treatment for life!