Sedation Dentistry for Kids – Randolph, MA
Genuinely Comfortable & Calm Care For Little Smiles
We understand – the dental office is not exactly your child's favorite place to visit. But if they are struggling with anxiety, nervousness, or even outright fear when they have an upcoming appointment, it can be far more serious than you'd think. Our experienced team members do a great of creating a relaxing and accommodating environment for even the youngest patients here at Simply Pediatric Dentistry & Orthodontics. Of course, we understand that this alone might not be enough. That's why we offer sedation dentistry in Randolph, MA to make their treatment process feel smooth and more relaxing than ever before. Give us a call today to learn more or schedule your next visit!
Why Choose Simply Pediatric Dentistry & Orthodontics for Sedation Dentistry for Kids?
Highly Trained and Experienced Pediatric Dentists
Patients of All Ages are Welcome
Comfortable and Relaxing Atmosphere
Nitrous Oxide Dental Sedation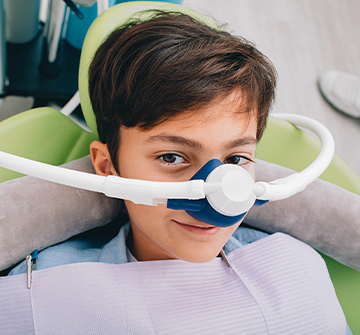 You've probably already heard nitrous oxide before, but by a different name: laughing gas! Administered through a nasal mask that is comfortably attached to your child after they are in the dental chair, nitrous oxide is a mild sedative that's available for all ages. Once they've breathed in the gas for a few minutes, they should feel calmer and more relaxed, all while still being aware of their surroundings and our team. This means they can answer questions and respond with their comfort levels. As a parent, you'll love the fact that the nitrous oxide wears away soon after treatment, so your child can get back to school with relatively little interruption.
Oral Conscious Sedation Dentistry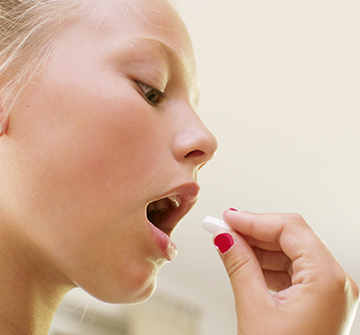 If you have a child who has more moderate levels of dental fear or anxiety, oral conscious sedation might be recommended to manage it. This sedative comes in the form of a pill that is taken at a set time of day before the actual visit. The effects include a deep state of relaxation. In most cases, your child won't fall asleep. However, the effects are heavy enough to cause many of your child's memories to be quite fuzzy once the treatment is finished.
General Anesthesia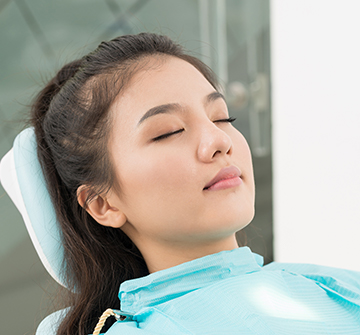 The pediatric dentists at our pediatric dental office will only recommend general anesthesia in the following instances:
The patient cannot receive important dental care safely under their own power because they have special needs
It's impossible for them to sit still or throughout a long treatment process due to age or excitement
There is severe dental-related fear and/or anxiety in the patient
With the help of an anesthesiologist, we can gently transition your child to an unconscious state and closely monitor their vitals (including breathing rate, blood pressure, oxygen levels, etc.) through treatment to ensure their safety and comfort.
Sedation Dentistry FAQs
Reading through the above information will give you insight into the different types of sedation dentistry in Randolph. Of course, you may have a few more questions on your mind. What does being under dental sedation feel like? Is sedation dentistry covered by insurance? Is it safe? Don't worry – our team is here to answer all of these questions plus a few more.
What does it feel like to be sedated at the dentist?
All forms of sedation dentistry will allow your child to comfortably transition into a state of deep relaxation. Of course, the exact experience will depend on the type they are receiving. For example, nitrous oxide (commonly referred to as "laughing gas") might give your little one the giggles and cause them to feel relaxed and light. Oral conscious sedation results in a deeper state of relaxation, resulting in them dozing off during their treatment. Don't worry – they can be easily awakened. It's just a testament to how relaxed they'll be. With general anesthesia, our dentist and anesthesiologist will monitor your child as they gently transition to an unconscious state.
Is sedation dentistry safe?
Sedation dentistry has been highly tested, and it's considered to be extremely safe for qualified patients. That's why our children's sedation dentist in Randolph reviews important information beforehand, like their medical history and allergies. Nitrous oxide is considered the safest because it's milder. However, no matter what type of sedation is being used, your child's blood pressure, oxygen levels, heart rate, and more will be monitored closely.
Is sedation dentistry covered by insurance?
Since dental sedation is considered a "luxury," the answer is generally "no." Of course, there are a few exceptions. For example, if your child has cerebral palsy, autism, or another disability that makes it virtually impossible for them to receive dental care without it, then your provider may cover a portion or all of the cost. Additionally, there are some procedures, like tooth extractions, that are complex and time-consuming. As a result, your dental insurance carrier may provide coverage. Ultimately, it's best to read the fine print on your plan beforehand, just to double-check. If you need any help understanding your benefits, our team would be happy to help too!
Is sedation dentistry worth it?
From routine checkups to root canals, dentistry is essential. After all, healthy teeth and gums allow your child to smile confidently, chew properly, and enunciate clearly. So, if they are unable to get the care they need due to dental-related anxiety or the inability to sit still in the treatment chair for prolonged periods of time, then sedation dentistry is well worth it. In short, it allows them to get the important dental treatments they need without the stress. That's priceless.